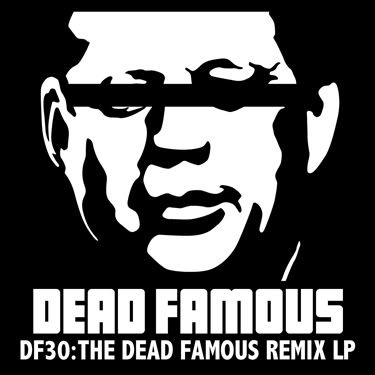 The Dead Famous Remix LP [DF30]
OUT NOW :: at
Beatport
for the next 2 weeks, and then everywhere else afterwards.
As a celebration of our 30th release, Dead Famous has handpicked some of the best producers out nowadays, who in turn picked their favorite DF tunes to remix. We carefully trolled over who's doing it for us right now, and are happy to say that no one disappointed. First up, we have
Kultur & Colombo
, who selected Dead Famous's flagship tune, the psy-tech mammoth that is the Robosapiens "New World Order". K & C have updated this tune in a big way – keeping the original vibe, but turning out an absolutely massive re-working. Paying attention to what other labels are doing, we picked both Anarchy Rice and Perpetual Present from the great Acidphonic to do a pair of remixes for us.
Anarchy Rice
turned out a particularly throbbing update of Break the Box's "Go Easy". If you like your techy breaks with a techno edge, you will love this. On the other side of the coin,
Perpetual Present
took the task of remixing label heads the Robosapiens & Break the Box's "Summer Rolls". Opposite Anarchy Rice's remix, this tune is pounding psy-inspired breaky techno that has some massive bass and a completely wicked breakbeat interlude ¾ the way in.
Recent signings to Dead Famous,
Stephen Cole
&
Matthew McCurry
had the daunting task of taking Hyperion's (now Loops of Fury on U&A) timeless " Chapel Hill " and updating it for a 2010 dancefloor. Creating a massively mental groove, this is probably what was playing in Mugatu's head when he said he felt like he was taking crazy pills. Definitely something for 2am when you want to absolutely destroy the minds of your crowd. Pop & Lock label head
Myagi
turned in a remix of Attack Release vs. the Robosapiens "Trip", and the best way I can describe this remix is for you to imagine that Rennie Pilgrem from back in the mid 90's had back alley sex with Giorgio Moroder and then the child was raised in Canada . This remix is chunky, acidy, and above all else, trippy. Myagi has definitely come through for us in spades. Remixing something that will no doubetdly be a classic in the future is never easy.
Line of Sight
has done just that in his update on Kraymon's "Papillon Rouge". Turning the original completely on it's head and adding a bit of psy influence, we liked this remix so much that we've already pegged him for an original release on Dead Famous later this year. To say that this remix slays is an understatement.
The
Robosapiens
, fresh off the well received Bodies EP, and remixes for Aux and Lot49 have taken their techno stylings and applied them to Home Alone's ode to face melting acid, "Get Away From Me". Turning this number into a driving big room affair, the bassline on this beast affirms the belief that techno is coming back in a big way, and why the 'Sapiens are garnering support from some big places for their work in the genre. Staying with the Robosapiens, Dead Famous mainstay, and all around driving psybreaks master
LuQas
, had the unenviable task of trying to rework one of the 'Sapiens biggest tunes – "Acid Reign". Originally released on the great Sinister Recordings, Acid Reign was one of the tunes that put the Robosapiens on the map. Since Sinister's demise, and all rights reverting back to the original artists, Luke requested this tune, and we thought it a no brainer. This remix is an evil one, and the bassline is just about as massive as massive gets. There's no shortage of mindbending acid here either.
When
Kraymon
first heard EK's "Exit Enlightenment", he immediately requested the chance to remix it, and done it well he has. Keeping a similar vibe to the original, he's run it through his infamous acid jazz machine, and what has come out is a slab of techy-yet-funky jazzed up acid breakbeat. It's remixes like this that should make the entire breakbeat community squeal with glee that Kraymon is back and in full effect. Last, but definitely not least, newcomer
Home Alone
chose Break the Box's "Test the Bass" as his remix. Now – we did a techno remix of this tune on the last remix EP, but what can we say – we love this tune, and we love techno remixes of it. Keeping the driving nature of the original, Dino has crafted a peak time remix that has serious amounts of bottom end – watch the main break of this tune and expect the person next to you to have permanent bassface when it hits.
Don't take our word for it, here's what others had to say about the Remix LP:
Autophase
"Very nice release. The Robosapiens Remix of Home Alone is right up our street and is sure to rock any club. Keep em coming! Will support 4/5"
Future Funk Squad
"the EK remix and the Anarchy Rice things made my ears prick up! both slammin!!"
Karton
"Massive EP - very diverse yet somehow all feel like a 'Dead Famous' tune. Cant split between the Myagi and Kraymon remixes as our favorites. Most (if not all) of these will get plays from us!!!"
Dylan Rhymes
"Robosapiens mix of Home Alone is the one for me man! Big up the sapiens! Will be smashing this at SXSW next week"
Kraymon
"The Myagi remix is rockin and has that rolling vibe that would keep you dancing in a field all night long. My fav of the bunch."
Hexadecimal
"Cole & McCurry have turned in another great remix, I'm sure that will get some plays from me... LuQas mix of Acid Reign is also sounding great, probably the best thing I've heard from him so far, it has got a FTL kind of feel to it, can't decide if that is a good or bad thing, either way it will certainly get some plays from me. I'm also digging what Home Alone is doing at the moment"
Far Too Loud
"Myagi and Luqas remixes are the stand-out ones for me. Lovely techy breaksy goodness. Love the bassline on the Anarchy Rice remix too."
Vandal
"A superb collection of remixes from one of the most forward thinking electronic labels on this planet."
EK
"Seriously, awesome LP all round. highlights for me are Myagi remix of Trip, Anarchy Rice remix of Go Easy and Line of Sight remix of Papillon Rouge."
601
"Perpetual Present are another bunch ive got into through Acidphonic, wicked party starting vibes i can see this getting arses onto the dancefloor"
Peo de Pitte
"Yeah, I like the bass madness in that Anarchy Rice remix of Go Easy"
Lee Martin (Dusted Breaks)
"I gotta say my overall fave is Kultur & Colombo Remix of 'New World Order'....2 words FUCKING AWESOME!!!!"
Retroid
"This is a super wicked release! For me, the Line Of Sight remix is the best, however i will play out most of these tunes."
Kickflip
"Kraymon's broken beat remix of EK bangs the nails in all the right places. Also loving Anarchy Rice's warpy rework of Break The Box, Robosapiens' techno remix of Get Away From Me is also chunky as funk and The Line of Sight mix on Papillion Rouge is also an excellent feelgood floaty number, can imagine finishing a few sets with this! "
Henry D (Bombtraxx / High Grade
"LuQas remix, Kraymon remix and Kultur & Colombo remixes for me."
Llupa
"This release encompasses everything that DF is about and has released over the last year - solid beats, head down groove laden heavy as you like bass lines, great production values, Tech leads that just build and build, gratuitous use of acid that is not over done or head splitting and a willingness to mash genres. This release is everything great about DF"
And the best reaction I've ever received -
Myagi
"Dead faymou5 makes the best gay house music evarrrr"
Until next time, Keep it Evil.
www.deadfamous.org